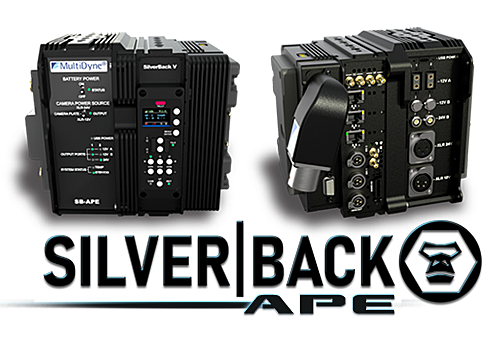 SilverBack APE
Digital Cinema Camera manufacturers are increasingly introducing cameras that require 24VDC power in order to operate. In response, MultiDyne has developed the APE Advanced Power Extension integrated accessory for the SilverBack lineup. In addition to powering these new 24VDC cameras, the APE provides comprehensive accessory power outputs for servos, monitors and just about any accessory you need to power on your camera rigs.
The SB-APE model is tailored more specifically to "camera-back" operation, where the APE power supply is integrally joined with MultiDyne's camera docking 'Silverback' product. The main output from the SB-APE model is ported to one of three selectable outputs to provide optimal flexibility: A 3-Pin Female XLR for 24 VDC output, a 4-Pin Female XLR for 12 VDC output or a battery emulator plate affixed to the SB-APE to dock directly onto the camera's battery plate.
The voltage output to the camera is automatically adjusted to 12 VDC or 24 VDC based on configuration information detected from the battery plate on the camera. Additionally, the same complement of accessory outputs for the QS4-APE model are also present on the SB-APE model.
More SilverBack Series Products