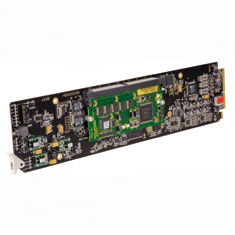 EMB-4321G—24-bit Basic Audio Embedding
24–Bit Audio Processing Card that Supports 16 AES Audio Input Channels & Eight Analog Audio Inputs.
The EMB–4321G provides 24-bit basic audio embedding of up to eight analog and 16 AES input channels. The card also offers AFD code insertion, full timecode control, and video proc features. Advanced audio features such as AES Sample Rate Converters allow error-free audio embedding from external asynchronous sources.
Timecode inserted on the SDI output from selectable sources such as SDI VITC waveform and SD/HD ATC, VITC/ATC, LTC. +LTC option allows LTC input/output on shared port, with bi-directional conversion between VBI & LTC on RS-485 or any audio I/O.
The EMB–4321G features full user remote and card-edge controls for audio levels and routing, video proc, and other functions. Factory presets enable a return to factory settings.
Advanced audio features such as selectable Sample Rate Converters allow audio re–timing, A/V Processing and Dolby® Digital/DolbyE Decoding are an available option.
HD/SD universal digital inputs
16 AES channels of audio embedding
Eight analog audio inputs
24-bit embedded audio processing
Audio channel mapping phase inversion and level control
16 channels of sample rate conversion