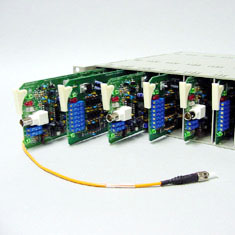 AES-2000
Ideal for the Long-Distance Transmission of Programming Digital Audio Over Fiber.
The AES–2000 AES/EBU digital audio fiber optic transport system is the ideal solution for the long–distance transmission of programming digital audio over fiber. In today's environment longer distances are required for your video and audio signal distribution. The AES–2000 is ideal for all your digital audio distribution needs.
Every broadcast, cable, corporate AV, and government facilities can use the AES–2000 for their audio distribution needs. The AES–2000 is packaged in a standalone configuration with an optional rackmount kit.
Supports AES/EBU digital audio channels; 6 balanced 110 Ohm, 2 unbalanced 75 Ohm on one fiber
Supports 2 data channels, select from RS-232, RS-422, RS-485
Supports up to 96 KHz sampling rates
Audio and Optical front panel status indicators with dry alarm relay contacts
Modular configurations with all optical wavelengths, LED Multimode and Laser Single-mode
Coarse Wave-division Multiplexing (CWDM) systems are available for up to 16 wavelengths over ONE optical fiber