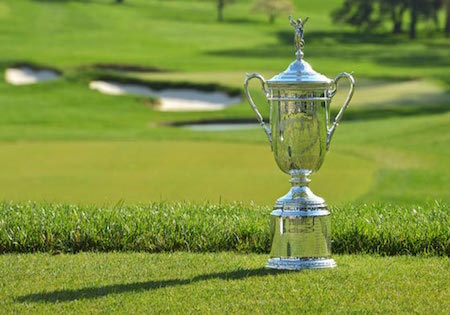 Robovision Covers 2015 U.S. Open Golf With MultiDyne Fiber-Optic Transmission
HAPPAUGE, NY—Sat 04, 2016—
All the pageantry and skill of this year's U.S. Open golf tournament was broadcast live on FOX Sports from Chambers Bay Golf Course, in University Place, WA on June 15-21, in true 1080 high definition television. Robovision, a full-service production company in West Milford, NJ, that specializes in designing and deploying innovative temporary system infrastructures for live sporting events to support specialty camera rigs used to acquire unique camera POV shots, helped FOX Sports produce this year's tournament with fiber-optic transmission technology from MultiDyne® Video & Fiber Optic Systems, a leading provider of video and fiber-optic-based transport systems for the broadcast and any organization that produces and distributes high-quality video.
Working with a crew from Game Creek Video (Hudson, N.H.) and its "Encore" all-3Gbps HD truck, Richard Glandorf, Director of Field Operations at Robovision, Inc., said, they used 32 camera systems that consist of a set of MultiDyne fiber-optic transmitters/receivers (MultiDyne HD3000 transmitters and HD4200 receiver cards, housed in a standard Open Gear frame) to send the HD signals over a single fiber-optic cable distances of several miles without experiencing any degradation of the picture or audio levels.
"We use MutltDyne for all of our video transmission needs, because we know there won't be any surprises and the gear will work each and every time," said Glandorf, adding that Robovision also helps produce 40 weeks of NASCAR racing every year.
During the broadcast, a MultiDyne HD3000 transmitter, housed in a rugged field case that sits next to each camera, was used to convert the HD-SDI signals coming from the camera to an optical signal so that it could travel miles over a single fiber strand back to the onsite production truck for mixing into the main program feed. These camera locations included some at the tee platforms, in studios, the press area, and other places around the Chambers Bay course.
"We've always found MultiDyne products to be easy to use and we get great custom service, so working with MultiDyne has always been a good experience for us," Glandorf said. "Whether we're doing a golf show like the U.S. Open, a NASCAR race or some other multi-venue, spread out event, fiber optic is the way to go and no company has a better handle on how to make fiber work for you than MultiDyne."
He said all of the shows Robovision now produces for network television sporting events are distributed via fiber-optic cabling. It's faster, signals travel further and it's less work for crews to install and then take away after a long project.
"We're committed to developing the right tools to help pioneering companies like Robovision achieve their creative vision," said Frank Jachetta, President of MultiDyne Video & Fiber Optic Systems. "The HD300 series links are ideally suited to the types of challenging projects Robovision completes every week for all of the major broadcast sports networks. We're proud to be working with them."
MultiDyne's HD–3000 Series of 5 to 2970 Mbps Serial Digital Video Fiber Optic Transport Links support all common video formats, including the 1080p (3 Gbps) HD format. The HD–3000 line offers an economical solution for the fiber optic transport and distribution of virtually any digital signal from 5 Mbps to 3 Gbps, reducing risk for incompatibility with new formats in the future. The systems will transparently pass any embedded audio and data.
About Robovision
RoboVision was founded in February 1990 while pioneering the use of robotic camera systems at Daytona International Speedway. Robotic cameras are now a part of every major sporting, news and entertainment event and virtually every one has been covered with RoboVision robotic cameras. For more information, visit http://robovision.com