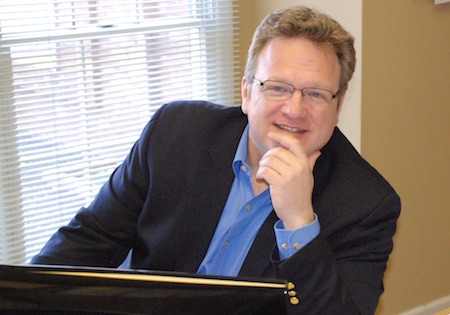 NAB Perspective: Multidyne's Jachetta on 4K; MLB Network Commits
Ken Kerschbaumer—Sat 04, 2016—
All of the 4K cameras introduced at NAB this year are going to need some sort of way to get their signals back to the production area and that is one of the reasons Multidyne's SilverBack 4K5 fiber optic system for 4K quad-link 3G cameras will get lots of interest from sports broadcasters in 2015.
"Like most companies we fill the customer needs that we hear about," says Frank Jachetta, Multidyne, president. "Here at NAB we have the Silverback 4K5 running on the new Panasonic Varicam. And we are seeing a lot of demand as we sold 50 before we even started shipping."
Jachetta says that when it comes to the challenge of 4K product design Multidyne actually has it easy as it is just a matter of delivering more video. That means the SilverBack 4K5 has four 3G 1080p links to provide 12 Gbps of bandwidth as well as the ability to transport audio and intercom. The SilverBack 4K5 base station is a standard 1RU enclosure with LED status indicators for each signal, as well as a color LCD screen that intuitively displays system status and general health.
"The defacto quad 3Gbps, a close second is the use of two 6Gbps and on the road map there is single 12 Gbps," he adds. "So on our single cable we have multiple wavelengths along with power."
Multidyne, of course, is focusing on more than just the 4K market. The new SilverbackVideo, for example, provides users with the ability to monitor from one to four HD (1080p/60 resolution) feeds, to and from the camera, at a highly cost-effective price. Since it uses fiber cabling, set up is easy and sending signals distances of as far as three miles is assured.
The SilverBackVideo was initially developed as a custom product for Panavision's New York Camera division to solve the costly problem of needing a live preview of what the camera, either film or digital cinema, is seeing. Panavision has purchased several SilverBackVideo systems, as well as fully featured SilverBack-II HD units, for its rental inventory.
Additionally, Multidyne is at the show with some customer news as MLB Network is using the KVM-6000-2DL within a new editing facility. Leveraging the KVM-6000-2DL's dual-link, dual-displays for HD editing workstations, each edit workstation supports two monitors up to 2560 x 1600 resolution at 60 Hz. MLB Network is running two divergent fiber paths between its headquarters and data center facilities for redundancy of signal paths, with optical switching for fault tolerant KVM control. After connecting two video display signals, audio, keyboard, mouse, and USB from the edit workstations in the data center, the KVM-6000-2DL's extends the two displays, keyboard, mouse, stereo audio, and USB to the editors via a single dark fiber. The editors have full control over the workstation to create content, utilizing the hardware that is located over a mile away from the operator.
"We needed a fiber-optic transport solution that supports KVM-based dual-link, dual-displays, as well as keyboard, mouse, USB, and audio on a single fiber while simplifying optical switching between editing rooms, without having any adverse effects on the computer or applications layer," says Tab Butler, director of media management and postproduction at MLB Network. "MultiDyne was the only vendor that could provide us with a customized KVM dual-link, dual-display solution meeting our criteria. Since deploying the KVM-6000-2DL, we have been able to control workstations and edit high-quality, high-resolution digital video located at our data center."
The KVM-6000-2DL dual-link system supports two monitors, each up to 2560 x 1600 resolution, over a single fiber with optional stereo audio and bi-directional data for monitor control. Using the KVM-6000-2DL, MLB Network can transport a pixel-for-pixel image that is 100-percent transparent with no frame dropping up to WUXGA 1920 x 1200, facilitating all 24-bits for all scan rates, without contouring or bit reduction. For resolutions above 1920 x 1200, an adaptive bandwidth reduction is applied, with a blend of color space compression and frame dropping. An intuitive and adaptive algorithm immediately detects high- and low-motion content and adapts accordingly, optimizing the editing process and improving the viewer's quality of experience.