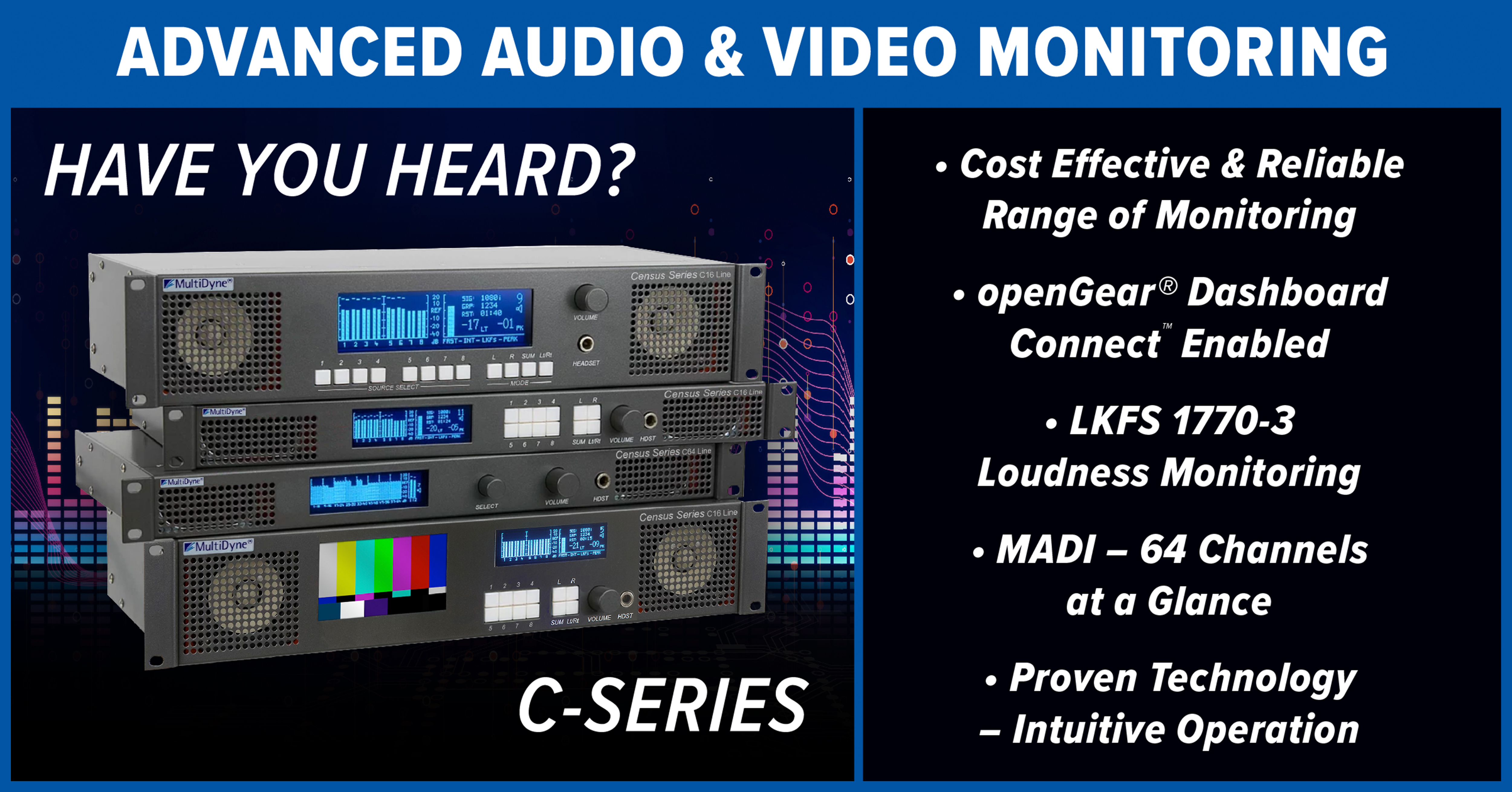 MultiDyne Strengthens Audio Family with C-Series Embedded Monitors
—Thu 01, 2020—
Following its September 2019 acquisition of Census Digital, MultiDyne has strengthened its product line and value proposition with the feature-rich C-SERIES of embedded audio monitors. Developed by Census Digital, the C-SERIES cost-effectively meets the exacting broadcast-quality needs of studios, mobile productions, and post-production with a feature set dedicated exclusively to audio monitoring applications.
Each of the six C-SERIES embedded audio monitors are configured to address a specific need and share the same inherent ergonomic front panel design and intuitive user interface. Rather than scrolling through menu displays, users have faster access to essential audio monitoring functionality, providing the audio engineer with exceptional ease of use. Users can monitor individual channels on-the-fly, adjust loudness levels for compliance, drive output to external speakers, and downmix left/right channels, among other critical audio monitoring tasks.
C-SERIES embedded audio monitors seamlessly extract audio data from each embedded AES-EBU channel within the SDI signal. Operators can view this extracted audio data on front panel displays and listen using headphones or external powered monitors (ideal for edit suites), leveraging volume control from the C-SERIES front panel. Users can also set key audio parameters, such as loudness levels to meet CALM-compliant broadcast standards using LKFS (Loudness, K-weighted, relative to Full Scale) meters and tools.
The lightweight C-SERIES includes four space-saving, 3G/HD/SD-SDI embedded audio monitors in single and dual-rack-unit configurations for varied AES/EBU and analog channel counts. A fifth unit, the C16V-2, provides visual and aural monitoring of all 16 audio channels embedded in the SDI signal in addition to an LCD video display.
A sixth unit, the C-SERIES C64A-1, provides fast visual and aural monitoring of all 64 channels of a single, standard MADI (Multichannel Audio Digital Interface) transport mechanism. This unit reliable decodes the TDM stream for compatibility with the MADI format, and provides users with the flexibility to monitor 64 bar graph VU meters on the front panel, or isolate individual audio channels.
The rear panels include an Ethernet port that lets operators connect the system to the industry-standard openGear digital signal processing platform, and control it using openGear's free Dashboard software. This enables users to expand their capabilities by accessing hundreds of openGear cards from dozens of manufacturers that support the platform.
MultiDyne plans to integrate fiber connectivity and transport layers into C-SERIES monitors, and offer broader interoperability with its video fiber transport systems within openGear environments.
"Census Digital developed the C-SERIES to bring audio monitoring solutions to a broader customer base that didn't sacrifice features for a lower price point," said Michael Jordan, Director of Business Development, Census Products, MultiDyne. "The C-SERIES offers a cohesive and cost-effective pairing with MultiDyne's video and fiber solutions today, and we anticipate stronger and deeper integration between these technologies moving forward to address trends and solve problems for our customers."