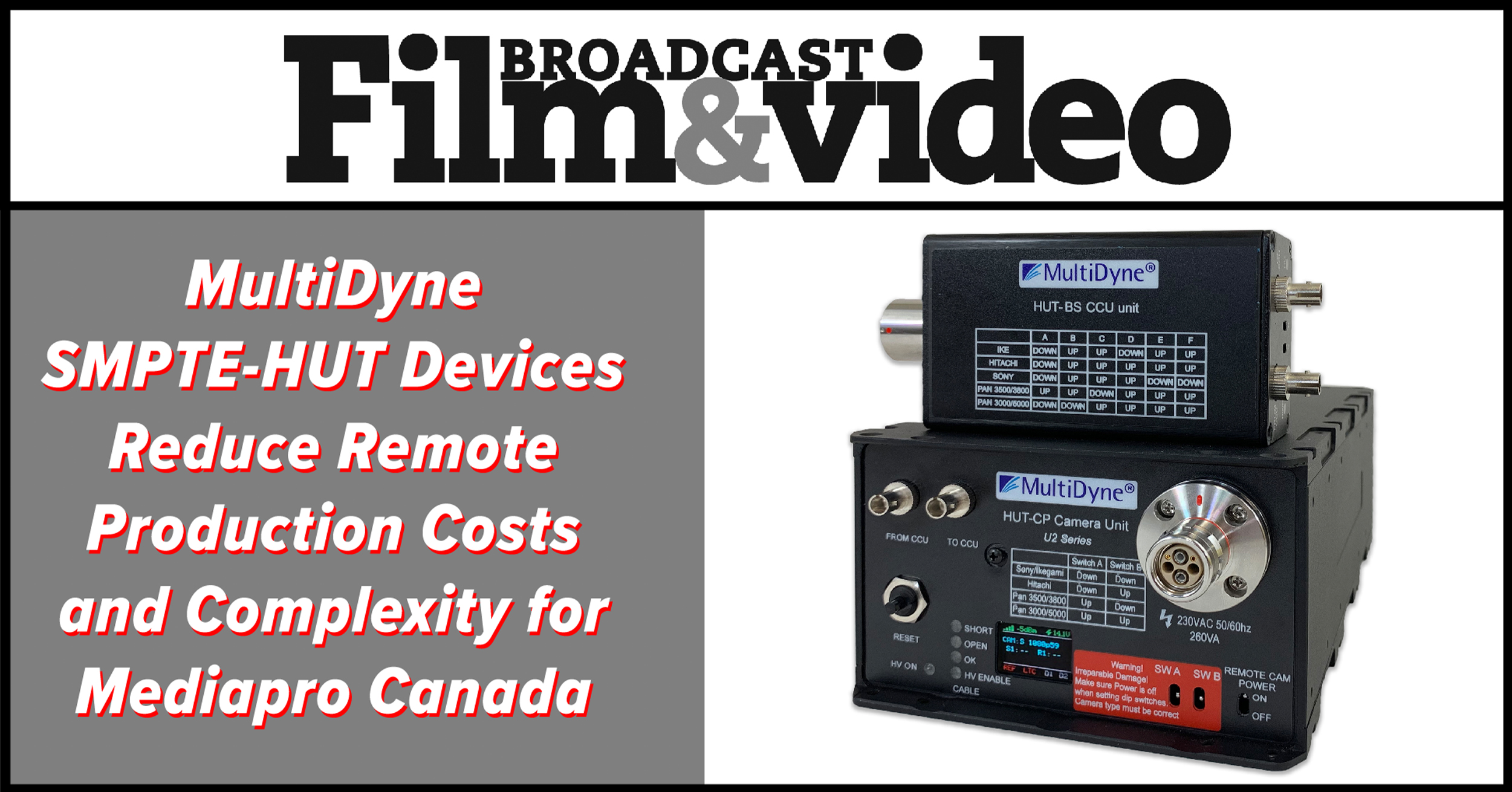 MultiDyne SMPTE-HUT Devices Reduce Remote Production Costs and Complexity for MediaPro Canada
Plug-and-play, universal hybrid transceivers simply cabling and connectivity, accelerate setup procedures for extensive sports production schedule—Mon 06, 2020—
When Mediapro Canada was contracted to produce coverage of CONCACAF Women's Olympic Qualifying Tournament soccer matches in late January, the company learned that there was no fiber infrastructure in the venues just two weeks before the events. Mediapro Canada turned to MultiDyne Video & Fiber Optic Systems for quick-shipped SMPTE-HUT universal camera transceivers to support the 12-camera productions in Houston and Los Angeles.
"We have fully transitioned from triax to fiber-based cameras," said Chris Priess, Vice President, Mediapro Canada. "MultiDyne was our first choice and the only vendor that could deliver on time. They understood our production demands and delivered the inventory we needed with urgency. Most important, the quality represents us well in the field."
The latest generation of MultiDyne's popular universal camera transceiver, the plug-and-play SMPTE-HUT eliminates copper connectivity in favor of pure single-mode fiber. According to Priess, using single-strand fiber instead of SMPTE hybrid fiber can save Mediapro Canada up to 30 percent of cabling costs per project. "The MultiDyne SMPTE-HUT reduces our cabling costs because ST fiber is considerably less expensive, especially when running SMPTE hybrid fiber for a mile or longer," he said.
Ideal for mobile production companies that require long cable runs, the SMPTE-HUT removes RF, EMI, and grounding issues to ensure the best possible signal integrity over long distances. Its compact footprint also reduces weight in the fly-pack and enables faster setup and strike times, easing the burdens of remote content acquisition and transport.
"The form factor is smaller than the previous brand that we carried, and goes a long way with efficiency," he said. "When you put six of these in a flight case, there's a noticeable difference in the size and weight that we wheel through the stadium before setup."
Based in Toronto, Mediapro Canada has seven mobile production trucks and 32 full-time employees. With the exclusive contract to cover all Canadian Premier League soccer for the next 10 years, as well as the rights for FIFA matches in Canada and the United States, the company will cover more than 143 matches this season alone. The Houston and Los Angeles events included multiple qualifying tournament games for the Confederation of North, Central America and Caribbean Association Football (CONCACAF) organization.
"These devices will see extensive use during the summer because we also do horse racing," Priess added. "Running SMPTE hybrid fiber on the backside of the horse tracks is expensive and laborious. We have already installed ST fiber in some of these venues so that we can utilize the full capabilities of our broadcast cameras."
Mediapro Canada has standardized across its fleet with 55 Sony HDC-2500 cameras, and its truck bulkheads have been designed to accommodate the SMPTE-HUT units. "We've planned our workflow and designed all of our new trucks to work with HUTs on a regular basis," Priess explained. "We can plug directly into our I/O panel and not require an extension that used to sit in the belly bin."
Priess also praised the SMPTE-HUT's rugged design and performance in inclement weather. "It's a cliché, but we're always judged by the last show we do. We need products in the field that we can count on," he said. "For us, the decision to purchase MultiDyne for our trucks is not just based on price point, but also on reliability, durability, and reputation in the industry."
MultiDyne will demonstrate the SMPTE-HUT and other fiber-based transport solutions in Booth C5013 at the 2020 NAB Show next month (April 19-22) at the Las Vegas Convention Center.