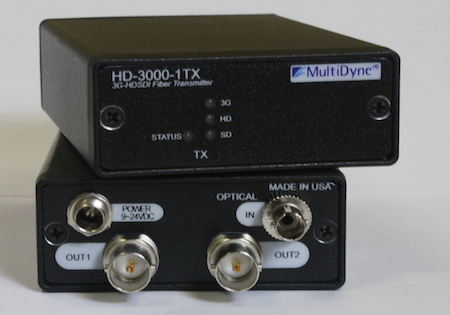 MultiDyne Offers 50% Savings On Popular HD-3000 Series Transmitters
HAPPAUGE, NY—Sat 04, 2016—
As part of a new promotion, MultiDyne® Video & Fiber Optic Systems, a leading provider of video and fiber-optic-based transport systems for any organization that produces and distributes high-quality video, has announced a significant (?%) price reduction in its popular line of HD-3000 Fiber-Optic Transmitters and Transceivers. Most MultDyne products, including the HD-3000 Series modules, are backed by a seven-year warranty. "The HD-300 Series line has been one of our best selling products because it solves a common problem of moving HD-SDI signals further than any coax cable could," said Frank Jachetta, President of MultiDyne. "We're happy to be passing on this significant price reduction in order to provide access to a wider group of users that we think will benefit from the use of fiber-optic technology."
Since its introduction in 2012, the MultiDyne HD-3000-II Series of Fiber-Optic Transmitters and Transceivers have been used by a wide range of professionals in sports, entertainment and production studios seeking to move HD-SDI signals around a facility, across a field or around a studio over a single stand of fiber. That's because the HD-3000 Series facilitates large-file signal distribution over long distances as well as real-time diagnostic and status reporting.
With six models to choose from, the 3000 Series allows users to not only send signals from point-to-point, but also to drop off a signal and continue on with fiber to one or more locations. Depending on the model, users can have loop BNC outputs and loop fiber outputs. And with the ability to EQ up to 120m of coax at 3Gb speeds, the HD-3000 Series provides the flexibility to easily customize signal distribution as required.
These modules can be fitted with the optical connector of your choice (ST, SC, LC) and will operate on multimode or single-mode fiber; although, single-mode fiber is recommended for optimum performance over longer distances at the highest bit-rates. The HD-3000 Series units can be used as stand-alone modules or six units can be racked mounted into a single RU via our convenient rack kits. They are also fully compatible with the MultiDyne LightBox® and LightCube® portable systems and the EOS router/patch-bay.