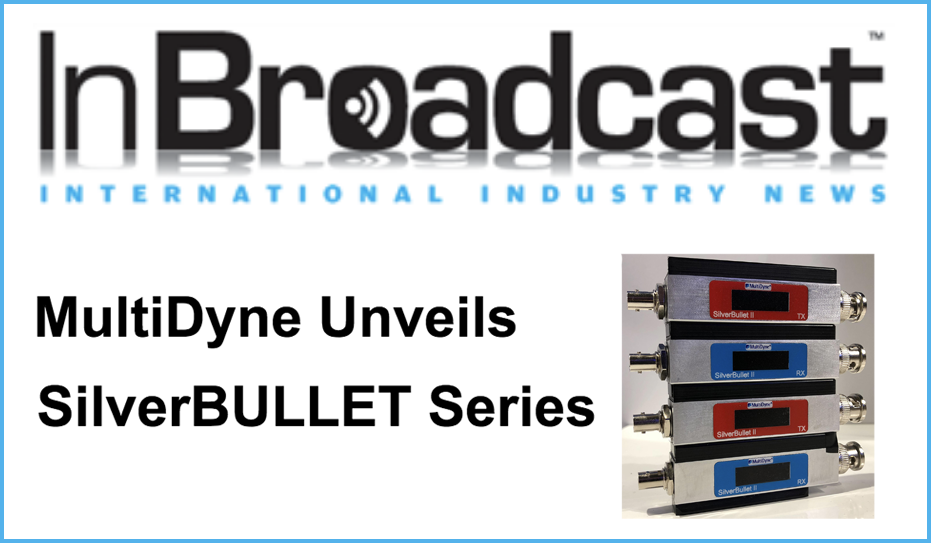 MultiDyne Introduces Next-Gen SilverBULLET Series
MultiDyne Fiber Optic Solutions has revealed its next-generation SilverBULLET series.—Wed 09, 2018—
The newest version of the patented, miniature fiber-optic link and signal conversion solution is a dramatic evolution from previous generations, with interlocked mounting, centralized power and built-in OLED monitoring that improves ease of use and systems management.
MultiDyne's SilverBULLET transmitters and receivers are highly portable and economical, making them equally useful for fixed links or last-minute SDI feeds. The latest SilverBULLET generation is 12G-capable for high-bandwidth, single-link transport to and from any video source. Built-in cable equalization and re-clocking optimizes signal integrity across all short- and long-distance transport, removing the presence of jitter from existing signals. The product's integrated OLED monitoring provides consistent readings on jitter rates, signal type, optimal power and more.
The daisy-chained mounting options and centralized power are key differentiators from previous SilverBULLET generations, according to MultiDyne President Frank Jachetta. At only three inches in length, the SilverBULLET connects to the back of any camera, monitor or another video source, with the ability to add more units without additional cabling.
"Mounting and power has always been a challenge with this style of product, and the SilverBULLET makes it simple for users to attach and detach multiple units to meet the needs of any production," said Jachetta. "A camera operator with four stereo outputs can daisy-chain four units together, and support a multichannel production off a single, self-contained power supply. It can scale much larger from there, without requiring multiple wall warts to power the devices. It's as simple as clicking the separate units together, which eliminates the many separate power supplies that were previously required to support similar signal densities."
The SilverBULLET is also available with a special 1RU tray capable of housing up to 24 devices. This makes SilverBULLET an ideal solution for fixed broadcast and production studio requirements, along with its portable applications in sports production, remote camera links, pre-fibered venues and interconnects for mobile production trucks. Its support for all SDI rates down to 5Mbps also makes the SilverBULLET valuable for courtesy feeds, confidence monitoring, distance learning, and other broadcast and commercial AV applications.