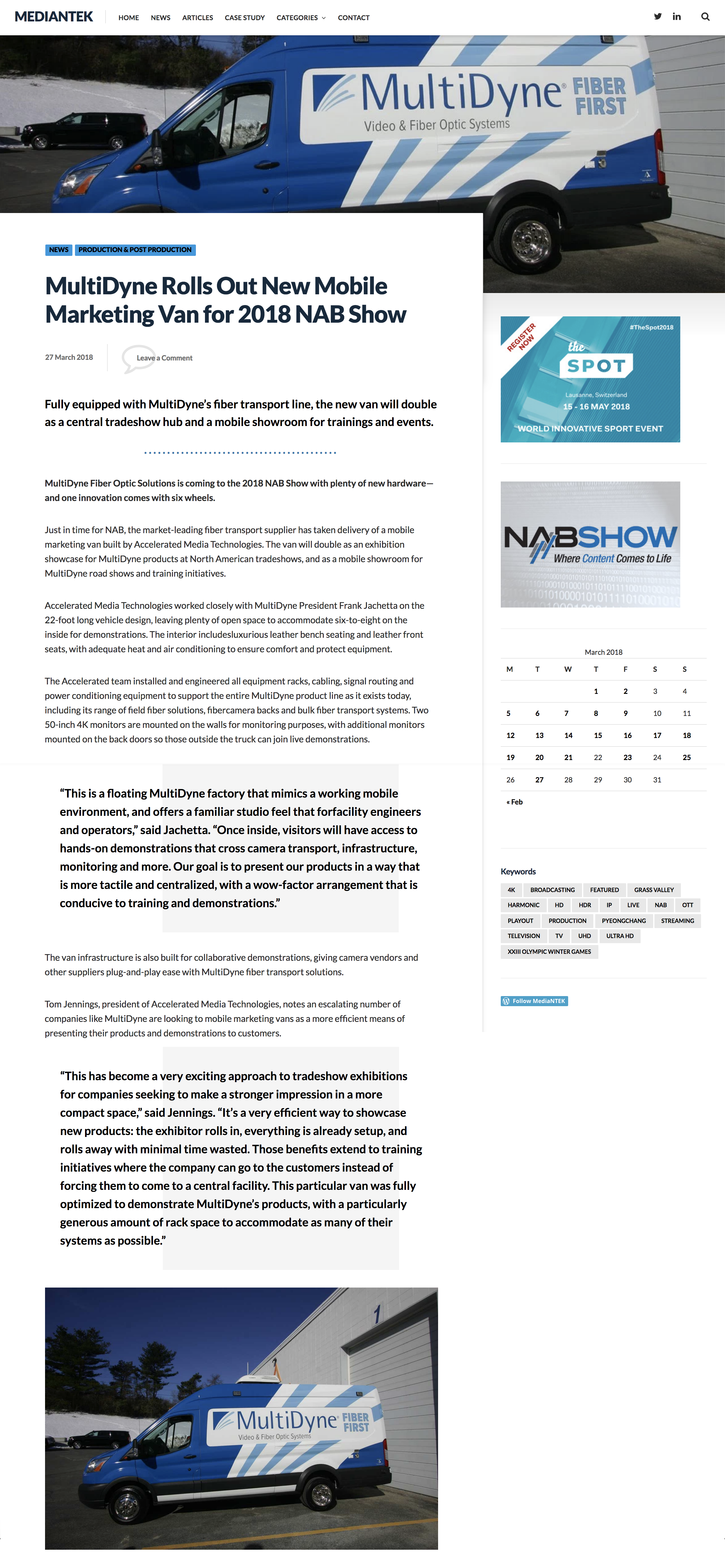 MedianTek
MultiDyne Rolls Out New Mobile Marketing Van for 2018 NAB Show—Tue 03, 2018—
Fully equipped with MultiDyne's fiber transport line, the new van will double as a central tradeshow hub and a mobile showroom for trainings and events.
MultiDyne Fiber Optic Solutions is coming to the 2018 NAB Show with plenty of new hardware—and one innovation comes with six wheels.
Just in time for NAB, the market-leading fiber transport supplier has taken delivery of a mobile marketing van built by Accelerated Media Technologies. The van will double as an exhibition showcase for MultiDyne products at North American trade shows, and as a mobile showroom for MultiDyne road shows and training initiatives.
Accelerated Media Technologies worked closely with MultiDyne President Frank Jachetta on the 22-foot long vehicle design, leaving plenty of open space to accommodate six-to-eight on the inside for demonstrations. The interior includes luxurious leather bench seating and leather front seats, with adequate heat and air conditioning to ensure comfort and protect equipment.
The Accelerated team installed and engineered all equipment racks, cabling, signal routing and power conditioning equipment to support the entire MultiDyne product line as it exists today, including its range of field fiber solutions, fiber camera backs, and bulk fiber transport systems. Two 50-inch 4K monitors are mounted on the walls for monitoring purposes, with additional monitors mounted on the back doors so those outside the truck can join live demonstrations.
"This is a floating MultiDyne factory that mimics a working mobile environment, and offers a familiar studio feel that forfacility engineers and operators," said Jachetta. "Once inside, visitors will have access to hands-on demonstrations that cross camera transport, infrastructure, monitoring and more. Our goal is to present our products in a way that is more tactile and centralized, with a wow-factor arrangement that is conducive to training and demonstrations."
The van infrastructure is also built for collaborative demonstrations, giving camera vendors and other suppliers plug-and-play ease with MultiDyne fiber transport solutions.
Tom Jennings, president of Accelerated Media Technologies, notes an escalating number of companies like MultiDyne are looking to mobile marketing vans as a more efficient means of presenting their products and demonstrations to customers.
"This has become a very exciting approach to tradeshow exhibitions for companies seeking to make a stronger impression in a more compact space," said Jennings. "It's a very efficient way to showcase new products: the exhibitor rolls in, everything is already setup, and rolls away with minimal time wasted. Those benefits extend to training initiatives where the company can go to the customers instead of forcing them to come to a central facility. This particular van was fully optimized to demonstrate MultiDyne's products, with a particularly generous amount of rack space to accommodate as many of their systems as possible."