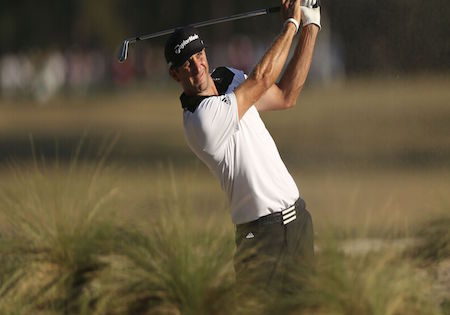 Inertia Unlimited Taps Latest MultiDyne Transceiver For Fast 4K U.S. Open Replays
HAPPAUGE, NY—Sat 04, 2016—
This year's U.S. Open golf tournament was broadcast live from Chambers Bay Golf Course, in University Place, WA on June 15-21, by Fox Sports (broadcast in 720p HD). A Multidyne Video & Fiber Optic Systems SilverBack 4K5 transceiver served as the fiber link for the X-Mo 4K camera system (ultra high-definition (UHD) ultra high-speed), enabling an unprecedented amount of data to travel distances of 5,000-7,000 feet over a single fiber cable without image degradation.
"Unlike other systems on the market, the MultiDyne 4K5 fiber transceiver gives us up to five 3Gbps paths required for 4K acquisition and to bring those signals back to the on-site production truck for inclusion into the main broadcast," said Jeff Silverman, president of Inertia Unlimited, of Jacksonville, Vermont. "It's a compact, well-designed package that combines video, audio and data in a very user-friendly, ergonomic form factor that is easy to work with in the field."
Silverman added that before using the MultiDyne SilverBack 4K5 system, they have had challenges in the past moving 3Gps signals over fusion-spliced fiber cabling; making production of 3840 X 2160-line UHD images more labor intensive and requiring more external gear.
The X-Mo 4K is a streamlined, user-friendly super slow motion system, developed by Inertia Unlimited using the Phantom Flex high-speed camera from Vision Research. During the 2015 U.S. Open, a crew from Inertia shot golfers' swings, captured in 4K resolution at 1,000 frames per second and then slowed down for replays during the live Fox Sports broadcast. It achieves crisp, clear images that can be magnified to highlight an area of interest, especially exciting combined with super slow motion.
Silverman said the X-Mo 4K system in tandem with the MultiDyne SilverBack 4K5 mounted on the back is an ideal solution for applications like live sports replays. "We've used MultiDyne technology in the past have had great success with it," Silverman said. "We just couldn't make other products work in this environment, whereas the SilverBack 4K5 system performed very well and helped us get the results Fox Sports [and we] required."
During the week of the U.S. Open tournament Inertia Unlimited also used a MultiDyne Fiber Saver HD-6000 system to move HD video signals around the course. "We plan to use MultiDyne technology again for future live sports projects," Silverman said.
Providing value and reliable performance for both high-definition as well as 4K/Ultra High-Definition (UHD) cameras, the MultiDyne SilverBack 4K5 camera-mounted fiber-optic transceiver is used to "systemize" the most bandwidth-intensive cameras by providing all of the bi-directional signals needed between the camera and the base station, including up to six 3G HD paths, intercom, camera and lens control and gigabit Ethernet paths. The camera transceiver is connected to the SilverBack base station with a single fiber-optic cable, which can be located near the camera or miles away.
Each SilverBack 4K5 system comes with a full seven-year warranty and provides a full-bandwidth fiber-optic link between any quad-link or dual-link 4K camera and the truck, control room, or "video village" position.
"The SilverBack 4K5 is ideally suited to the types of projects Inertia Unlimited, with its pioneering X-M0 4K high-speed 4K camera system has become quite adept at," said Frank Jachetta, President of MultiDyne Video & Fiber Optic Systems. "It's also flexible enough to work with any HJD or 4K camera on the market today."