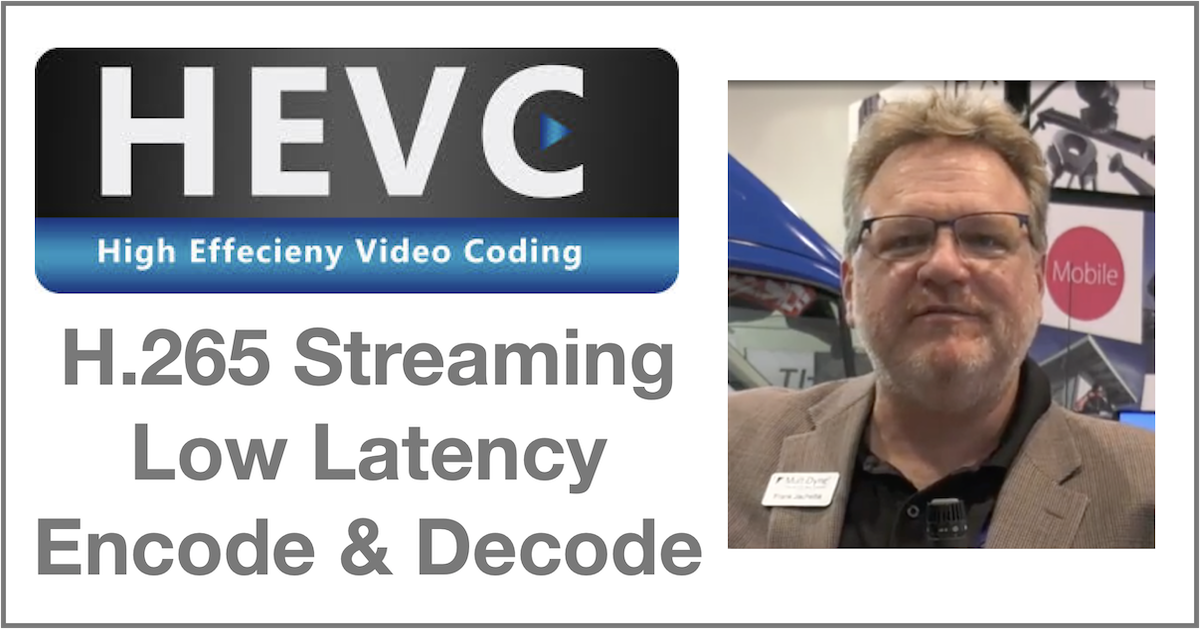 Changing Architectures & Topologies
Streaming content distribution is on the rise - Covid 19 is the catalyst—Thu 08, 2020—
INBROADCAST: Question & Answer
InB: Can you give us a brief overview of what we can expect in the next 6-12 months within your sector?
We have already seen shifts toward more streaming as a means of consumption with the COVID-19 pandemic. Beyond live and on-demand television, we are seeing a stronger hold in surrounding market verticals that MultiDyne sells into. For example, houses of worship have really strengthened their streaming architectures to ensure they can deliver services to parishioners at their homes. Worship facilities have always been broadcast savvy, so this represents a greater step forward in their broadcast capabilities. We are also seeing entertainment companies transition to on-demand models for live performance, including pay-per-view concerts from empty venues and theaters.
InB:Can you explain the benefits in regard to the LATEST product / service announcements?
One common thread across all of these areas is the need for reliable transport and high-quality encoding to ensure quality consumer experiences. As streaming becomes the norm, fiber and compression are core technologies to enable these services. We see those markets as important growth areas for both our businesses. MultiDyne's SilverBack camera back fiber transport systems will bring great value to entertainment and production companies shooting live streamed events, as well as for producing reality shows and other location-based events.
We have also taken steps to strengthen our product offering in the compression space with our MD9200 Series of encoders and decoders. These products are equally valuable and ideal for linear broadcast/production models and streaming media workflows, including OTT services and on-demand events. These products extend MultiDyne's reach deeper into the signal processing chain and strengthen our value proposition as a core supplier from the content acquisition stage through to the delivery point.
InB: What challenges did you face when designing / launching the product / services?
Fiber transport means something different to every customer, and that can be tricky when it comes to nailing the engineering design for a product. Someone always wants one more video connection, more audio capacity, or wants to drop audio and add more data transport. There is a lot to consider on that part alone, and then you have to weigh the formats and bandwidth. 12G means more high-speed circuits and a great leap in bandwidth, and that brings challenges of its own. Though these are all fairly simple devices on paper, with each new format and transport option comes a new set of engineering challenges. We are increasingly moving to more modular systems that allow users to customize their systems, versus supporting an exponentially growing set of requirements with unending purpose-built products.
InB: Which territories do you think will show particular interest?
We don't really see major distinctions by region when it comes to transport workflow, but we do see some differences in requests. For example, we have seen an uptick in inquiries for our compression products coming from Asia where we have made aggressive moves over the past year to build our presence and partner network. We have made similar moves in Europe to grow our presence, and as a result there has been greater adoption of our fiber products in both regions. Worldwide, there is growing interest in 12G, and MultiDyne has been very aggressive in adapting our products for 12G transport.
The general point is that the differences are minor by region, and that there is a need for fiber infrastructure in every region. We have strengthened our global presence to serve those needs, along with a continually evolving product line to serve emerging requirements.
InB: Any future product innovations ahead that you can discuss?
Nothing specific that we can talk about yet, but I can say that the industry will see more 12G MultiDyne products coming to market, and that our IP-enabled innovations are on the horizon. IP has been used to move content around studios for some time, and we are beginning to see that transport mechanism as part of the mobile production workflow. The truck companies use a lot of MultiDyne fiber transport equipment, particularly when it comes to signal conversion and field fiber throwdown systems. At some point we will see a greater need for IP compression technologies between studios, trucks, and locations, as well as more GPS-equipped transport systems/
InB:Can you advise on your ideal market for these products/services?
This takes me back to the point that everyone needs fiber, and everyone needs compression when it comes to reliable video transport and high-quality signal encoding. The traditional broadcaster, the mobile truck, and increasingly the emerging OTT and streaming service provider will continue to be our bread and butter. We do think there are interesting scenarios within these markets, such as convergence with IP and NDI that will become more appealing as topologies change and grow.
This article can be viewed in the July issue of InBroadcast publication - http://europe.nxtbook.com/nxteu/lesommet/inbroadcast_202007/index.php#/p/28