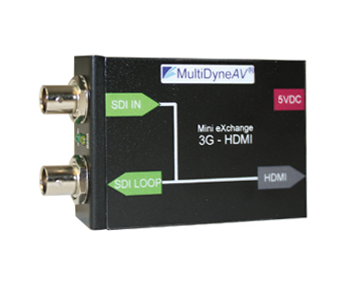 Mini eXchange Converter (HDMI)
Highly Affordable and Convenient Signal Converters.
The new MultiDyne AV Series of compact ProAV signal converters includes an HDMI to 3G HD-SDI version that converts full High Definition HDMI signals to 3G/HD SDI for displaying HDMI signals from cameras, computers and other devices within 3G HD-SDI broadcasts and incoming camera signals. The converter features support for up to 8 channels of HDMI embedded audio output, one HDMI input port, and two 3G/HD SDI outputs. It is well suited for HDMI cameras or other HDMI video sources to connect SDI video recorders or monitors for image review and display.
High-quality signal conversion
Compact Form Factor
1 HDMI input port (female type A with holes); 2 SDI outputs (female type-BNC)
Fewer than 1.85 watts of power consumption
1 Year Warranty
RELATED PRODUCTS